Welcome to St. George's Church, Hempstead, New York.  We are located at 319 Front Street in the Village of Hempstead.  St. George's is part of the Episcopal Diocese of Long Island.  The Diocese of Long Island is composed of 132 congregations in Brooklyn, Queens, and Nassau and Suffolk counties. We are part of the Episcopal Church and the Anglican Communion.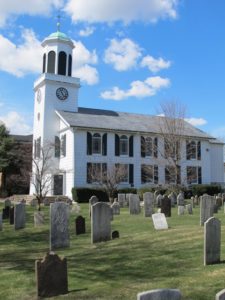 Our History – During the American Revolution, Hempstead was a hotbed of British sympathizers, or Tories, as they were known. The British attempted to occupy Hempstead after the Battle of Long Island and used St. George's as a headquarters as well as a place to worship. Local folklore has it that the rooster weather vane atop the steeple has sixteen bullet marks placed there by Hessian mercenaries who used it for target practice. American troops occupied the church for a period under Ezekiel Cornell from Rhode Island. Cornell "converted the Episcopal Church into a store house, forbid the parson to pray for the King or any of the Royal Family and made use of the communion table as a convenience for his Yankees to eat upon."
Celebrate Your Faith
All are welcome to come and celebrate your faith with us.  During the summer, we have one service on Sunday at 9:00 am. For the rest of the year, except for certain days marked in the bulletin and the calendar on this website, we have two worship services on Sunday.  The first is at 8:00 am, a more traditional service while our second service is at 10:15 am.  Come and share our joy in Christ.
Summer Service Schedule
Sunday: 9:00 am
Wednesday: 10:00 am
Normal Service Schedule
Sunday: 8:00 am & 10:15 am
Wednesday: 10:00 am
Saturday: 10:00 am
Food Pantry
Our food pantry is open the first and third Wednesday of each month from 12:00 pm – 2:00 pm. Please see Food Pantry tab for more information.